Camping and hiking tricks that we've used or seen on 2008 Appalachian Trail thruhike.
Our trail names were Barley & Rain.
When in town for a resupply, hide some steaks or bacon in the frozen pizza section and buy it when you leave town the next day. Keep it wrapped in your sleeping bag and it will be thawed 48 hours later.

Get a prescription medicine bottle or film canister and fill with: paperclips, safety pins, sewing needles (at least 3, they break on tough gear), thimble, fish hooks, push pins, bobber (for fishing), and anything else small or handy you can think of.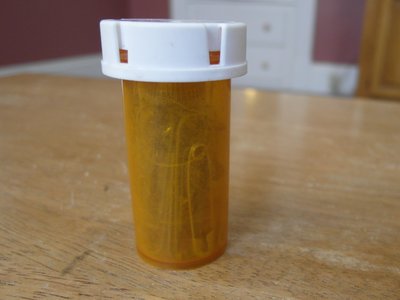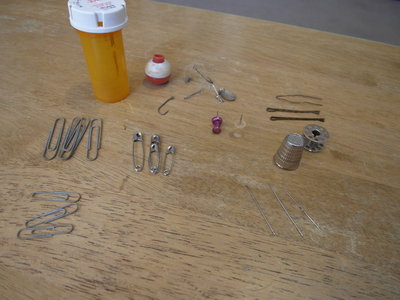 Take a roll of toilette paper and a quart freezer/ziploc bag. Smash the TP a couple times to loosen the cardboard liner. Remove the cardboard and stuff into the ziploc bag. Add a miniature hand sanitizer bottle. When you need to go to the bathroom, pull the TP from the center of the roll. You never have to take it out, and it will stay dry/clean.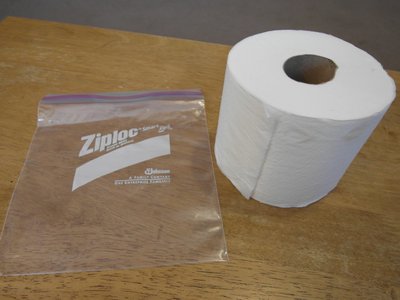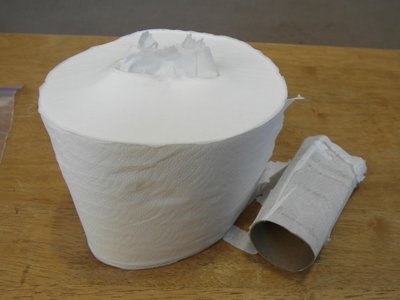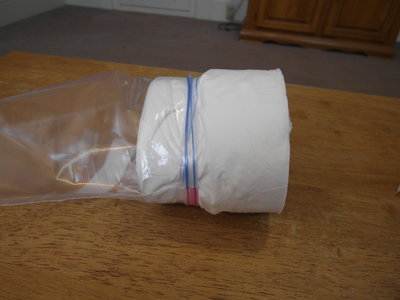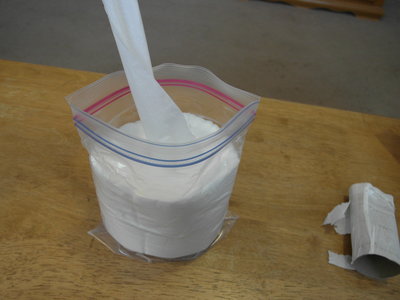 Get a 2x2 inch piece of cardboard. Wrap duck tape around that. A lot of people wrap duck tape around a trekking pole or water bottle, but these get thrown around and are damaged by sun/rain. That little piece of cardboard has 10 feet of duct tape wrapped around it.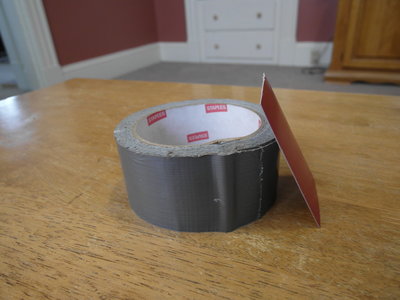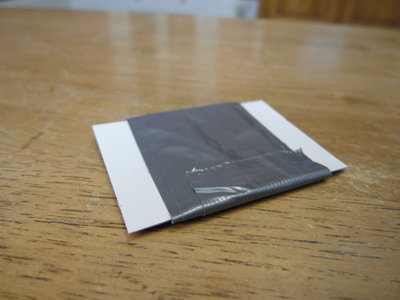 PCT method for bear bagging.

Have two 1-litre bottles. Have one be a hard nalgene, which you can use for hot drinks. Use a wide-mouth pepsi bottle for the other. Poweraid bottles are also good, but they are a bit large for some backpack side pockets. The Smart Water brand bottle below is a full litre bottle that is very slim and can fit in most pockets. It isn't wide-mouth, though.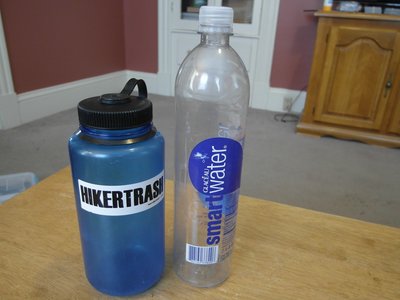 Get a 4 or 6 litre water bag. With your water bottles filled, you now have enough to make dinner, breakfast, hydrate, and washup in the morning without doing extra camp chores.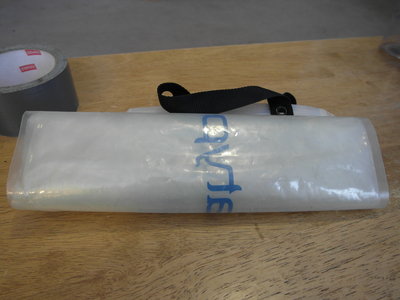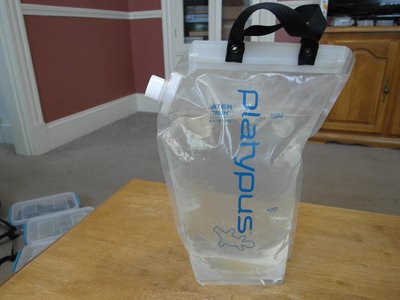 Dry yesterday's socks on the back of your pack while hiking.

Save the little packets of dessicant from shoes/clothing and keep it in a ziploc with your cameras flashcards.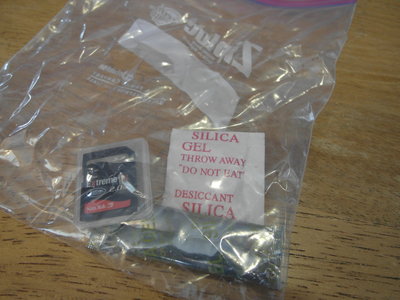 If your camera gets wet, do NOT turn it on. Take the batteries out, open any battery compartments and leave it wrapped inside a wool sock to dry out overnight. I did this all through the south, but got lazy by New York and tried it out and fried the camera.

A contractor trash bag will work great for a pack liner. At one point we got a Ziploc brand 20 gallon ziploc bag Huge, like 2 foot by 2 foot. Fit perfect and was clear, so I could take the whole thing out and see what I wanted to look for. I haven't seen these in stores, but you can buy them here on Amazon . The fact that they are clear really does help. About once a week I'd have to play "find the gear" that was hidden in my black contractor bag.

When you resupply, remove all cardboard and plastic food packaging, and put everything into quart ziploc bags. Use gallon size where appropriate. Cut off the instructions and keep with the food, but really one method serves to heat almost all foods.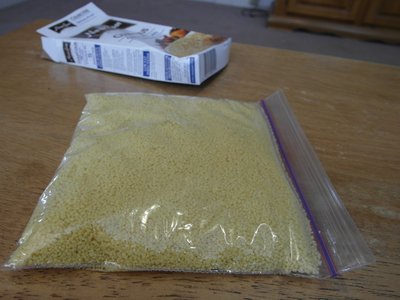 How to cook any drygood: Put it in a pot, slightly cover with water. Bring to a boil, stirring to keep loose. Turn off heat after boil and let sit with top on for 5-10 minutes. Taste and test at that point, adding more water and heating if necessary or warm up with top off to evaporate some. The only food this does not work for is instant mashed potatoes. Guesstimate the water volume (aim a little on the low side). Boil water, add potatoes, and then add a bit more water if necessary. This works with any food and conserves the most amount of fuel.

Soda/Beer can alcohol stove. Take two cans and cut the bottoms off about 1.5 inches from the bottom. Optionally stuff a piece of fiberglass insulation (take from your basement/attic) into one of the bottoms. Turn the other can bottom upside down and try to fit it inside the other one. Go slow, it will take some time depending how clean the cuts were. When it is nested, you'll have a can with two bottoms. Take a push pin and make holes around the outside rim about 1/2" apart. These will be the fire jets. In the middle of the same side make a whole with about a 1/4" diameter to fill the fuel with. The hole should be smaller than a nickle coin, because we'll use a nickle/penny to cover it with. Three methods that work well: Drill bit, poke a pilot hole with a pin and slowly turn widen it with a pocket knife, just make a bunch of mini-holes with the push pin.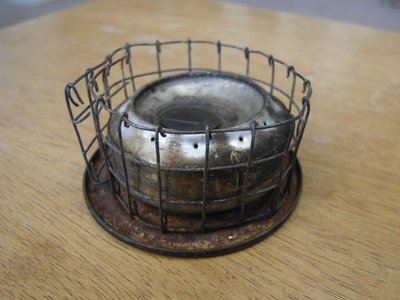 Tautline hitch will make your life easier with your tent or tarp.

A headlamp with a red LED is really nice. You can read and do most in-the-tent stuff with just red light and it won't bother anyone else and it preserves your night vision. Adding a red gel/filter to a white light is better than nothing, but once I put mine in place I never took it out.

Take the insoles out of your boots at night. They will dry out faster, and in the morning you automatically give the boots a shake before putting the soles back in. This keeps out the spiders and bugs. One thruhiker didn't shake out her boots and noticed her toe was hurting while hiking. She ignored this, since...well your feet hurt pretty often anyway. At the end of the day her toe was black and a centipede fell out of the boot. Shake yer boots.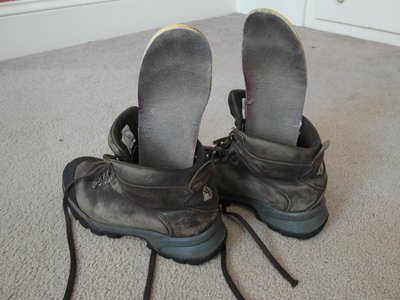 In the summer, use fleece blankets that zip together to form a sleeping bag. For two people we had three blankets. Two of them zipped together making a two-person sleeping bag, and the third would either go over/under us depending if it was chilly or too warm. We were swapping out our summer gear in Hanover,NH, but ran into a cold night in Vermont. It was low 40s/upper 30s, so we put all three blankets on top and slept directly on the sleeping pads.

Use Tyvek (the stuff you see covering plywood on houses as they are built) for ground cloths. If you want to soften it up put it in the washing machine (NO detergent!).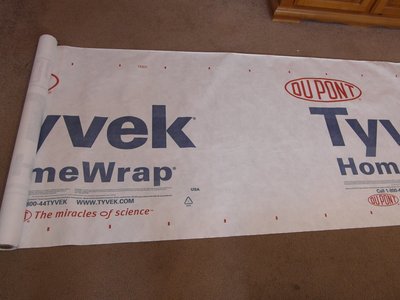 Carry a pencil for journalling in fall,winter,and early spring. Pens will freeze during the night.

A compass is not necessary. I brought one, but after the first week I realized how well travelled the trail would be. Impossible to get lost.

For flavoring water, Tang was the best deal. Most powdered drink mixes are made for dieting. The fancy electrolyte mixes by gatorade seem like a scam for what you're getting and paying. Tang is cheap, has calories, makes twice as much compared to CountryTime lemonades, and is vitamin fortified. Win, win, win, win. Keep it in the original hard container. We tried being space efficient and using a ziploc, but it will get everywhere and once wet the bag turns nasty and sticky.